Staff member
Administrator
Gold Member
Professional Enchanter
Registered
Joined

Oct 20, 2014
Messages

4,147
Reaction score

2,463
Points

113
Location
Halloween is near and the evil pumpkins are back to invade the land of Nevareth to trick and treat the warriors with awesome treasures that comes with them. Come and gather all your friends and hunt the monsters of Halloween this
October 12th until November 7th 24:00 Server Time (Sunday)
!

Collect the letter
P
U
M
P
K
I
N
for Cabal Lantern, Jack-o'Lantern and exchange them from
Treat Tickets
and
Pumpkin Lottery Box
at
YUL Event NPC
.
Jack-o'Lantern
The Evil Pumpking releases its minions to invade and scare the people of Nevareth, but with every scare comes a prize!
This year the hunt is divided in 4 groups of difficulty and rewards. Group 1 is the most weak but drops the lowest letter number and as the group number is higher the drop increases but the difficulty of the monsters also.
Group 1 with Jack'o of level 140 +/- 5 that will each drop 1 Letter
Group 2 with Jack'o of level 160 +/- 5 that will each drop 2 Letter
Group 3 with Jack'o of level 180 +/- 5 that will each drop 3 Letter

Group 4 with Jack'o of level 200 +/- 5 that will each drop 4 Letter
_____________________________________________________________________________​
CABAL Lantern
According to witches, the Cabal Lanterns have arrived on the land of Nevareth to unleash their spooky wrath on Halloween Eve. We are calling all warriors to come save the three main hometowns of Nevareth from destruction. There are rumors running around that when these Cabal Lanterns are slayed before Halloween, they throw out major treats and treasures for the players to collect.
You can find the CABAL Lantern in:
Bloody Ice - Desert Scream - Green Despair
They will re-spawn every 60 minutes and will drop 24 items.
_____________________________________________________________________________​
The exchange SHOP
The Caballoween shop is filled with awesome items including some Treat Tickets (4 different types) + a Halloween Pumpking Box. The full drop list of them can be found on the event page
--> here <--
The main exchange currency for this shop are the Halloween Letters and the Halloween Coupons that can be mainly obtained from Treat Ticket - Usables.
Event cosmetics in Bazzar
Those of you who want to support this server can purchase cosmetic items with eCoins from our bazzar. We want to thank in advance to all of your for your support! -->
Bazzar
<--
SEASONAL PET
Cabal Ranger is available just for Caballoween Events.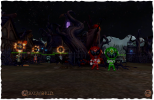 ​
SEASONAL WINGS
Spooky Wings are availeable just on Caballoween Events.
Last edited: