Staff member
Founder
Gold Member
Professional Enchanter
Registered
Joined

Oct 20, 2014
Messages

3,606
Reaction score

2,058
Points

113
Location
Little Draka believes that one day, he can become a strong Dragon.
Draka needs five Dragon's Eggs to become strong. Find and collect these Eggs in dungeons and Draka will give you a special giftbox as gratitude.
Event functionality
Event functionality

There are a total of 5 Dragon Eggs

These Eggs can be opened for loot or exchanged at YUL NPC for Draka's Giftbox, Draca Pet or Draconis Wings.

Each Eff type can be farmed in a specific dungeon equivalent to its rarity!

Dragon Egg #5 can be obtained

ONLY

from Dragon Egg #4

Dragon Egg #3 can also be obtained from Dragon Egg #2 and so on.

The Dragon Eggs are free to trade items

Draka's Giftbox

Draka's Giftbox Drop Table: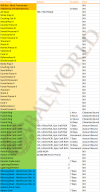 ​
Lv. 1 Pet - Draca

You can obtain the pet for 5 x Dragon's Egg #5 and 600.000.000 Alz

[Costume] Draconis Wing

You can obtain the wings for 5 x Dragon's Egg #5 and 2.000.000.000 Alz

Donation Bonus

Until the event ends

ALL DONATION

made towards our server will give you a bonus of

30% eCoins

This is a token of our appreciation for all of you who constantly support the server and chose do do it the right way, donationg via the Paypal or Paymentwall widgets.
Last edited: