Staff member
Administrator
Contributor
Gold Member
Professional Enchanter
Registered
Joined

Oct 20, 2014
Messages

4,020
Reaction score

2,286
Points

113
Location
Essence Runes
Updated runes description with their grade and the place where they can be dropped or bought
​
HP Absorb Up rune, increased the maximum level from 5 to 10.
​
Defense rune, improved the stats given at each level.
​
Essence Runes Cube from Contribution Office Kyle edited and now it can also drop the Critical Rate UP rune.
​
Added 11 new Essence Runes that will be available at dungeon drops and Abyss npc from Boss Arena map
​
Abyss Npc Preview

Essence Runes Grade II Preview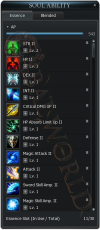 Essence Runes Description Preview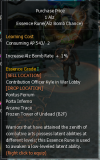 Essence Runes Grade II Drop and Sell Locations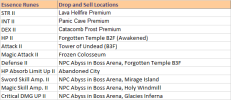 Sealed Essence Runes Requirements

Essence Runes Grade I Full Specifications



























Essence Runes Grade II Full Specifications










​
Blended Runes
Multiply Blended Rune CURE HP Restore x4
​
Since all HP was multiplied by x4, the runes were updated too
​
Cure I = +100HP changed to +400HP
​
Cure II = +200HP changed to +800HP
​
Cure III = +300HP changed to +1200HP
​
​
Fixes
Fixed a problem in dungeon Forgotten Temple B3F with the spawn of Muntant Mazel. Also the Mutant Mazel will spawn after the Legacy Chest is killed.
​
Fixed a problem related to the drop of Training Dummies
​
Last edited: