Staff member
Administrator
Gold Member
Professional Enchanter
Registered
Joined

Oct 20, 2014
Messages

4,267
Reaction score

2,512
Points

113
Location
As you all know we have been constantly taking actions against those who want to ruin this server with Black Market and taking advantage of those players who are not really experienced with the game and its market.

There is no secret that here our goal is to offer to all players 2 ways of achieving items and progress in-game.
You can either play the game or donate to help the server and get fast progress or items.
After following the market in-game closely for the past months we noticed that some players were fooling the donators to sell them vouchers for ridiculous amounts of alz. Due to these actions we have decided to kill the vouchers trading "trick", buy cheap and sell expensive.

We are going to introduce now a new currency named, World Gem's
This currency will be used to get end game items
(in Bazaar -> Item Shop -> Gem Shop)
Also, there is no secret that this server was offering custom deals to those who were not able to play that much but wanted to donate to get the end-gear items (
that can be obtained in-game also by playing
) but its better to have this kind of stuff transparent and available for everyone so we are putting from now all in the Gem Shop category.
Gems can be obtained by donating through paypal only, just like on the old way of the custom deals.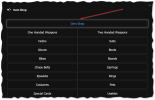 With this change we also want to mention the following:
Added minimize and maximize option for the widget that shows your eCoins, vCoins and now the Gems also
Characters from banned accounts will not be displayed in any ranking system
Updated Nation Statistics widgets
Last edited by a moderator: