In preparation for the upcoming updates and changes we decided to review the server rates and adjust them accordingly.
While we tested the new configuration, we noticed there was a long existing bug with the floating rates system that caused all the basic and therefor the online bonus rates to be calculated incorrectly.
Floating rates bug explanation: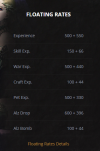 On the above image, Experience 500 should be the default rate and the + 550 the extra rate from online players
In reality, the default rates are calculated incorrectly by the application we use for automating so all the rates are 23% lower than its displayed
So for example

Experience 500

is actually only

385

and the online bonus + 550 is only

+ 423

and since we barely manually changed anything related to rates we never noticed this until now
With all this in mind we decided to replace entirely the floating rates with a new system, the
Rates Booster
.
The new
Rates Booster
will have all the base rates
corrected
and
adjusted
where it is required and it will work as an additive bonus directly on the server.
This means you will not see this change ingame in the system message window, because this boost is global on the server side and the ingame system message will always show 100% + applied blessing bead bonuses.
However all the new base rates and the bonus rates will be visible on the website at the location of the old floating rates widget at the bottom.
Rates Booster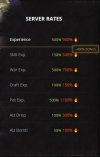 The base rates will be active from Monday to Friday (green values) then the Rates Booster will activate for Saturday and Sunday (orange values).
The second reason why we decided to replace floating rates and the main reason for activating the booster only on weekends is to provide a more fair and a less stressful option for everybody to enjoy the boosted rates (due to a number of reasons some players could login at peak times, when the floating rates were giving very high bonuses, while others could not, so they were missing out on a big amount of bonuses)