Staff member
Founder
Gold Member
Professional Enchanter
Registered
Joined

Oct 20, 2014
Messages

3,599
Reaction score

2,054
Points

113
Location
Weather is hot, blood is boiling and the monsters are ready to fight you. Kill them all and collect the Silver and Gold Medals. The more you collect the more you can exchange for awesome treats.
Dancing Lion and Golden Fortune Pig
This mythical creatures have taken over the
Port Lux
sea-shore. Be careful how you engage them because every time you take down one of the Dancing Lions there is a probability that they will call a Golden Fortune Pig to fight on their side, and believe me when I say that they are strong creatures!
Dancing Lion:
Item Drop:

Summer Silver Medal

Drop Count:

1 (Stacks from 1 to 5 pieces)

Respawn:

1 Minute
Golden Fortune Pig:
Item Drop:

Summer Gold Medal

Drop Count:

5 (Stack of 1 piece)

Respawn:

Unknown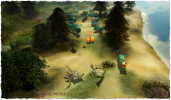 Summer Gold Medals drop:
Volcanic Citadell

Frozen Tower of Undead (B1F)

Frozen Tower of Undead (B2F)

Forgotten Temple (B1F)

Forbidden Island

Maquinas Ooutpost

Tower of Undead (B3F)

Frozen Colosseum

Abandoned City

Forgotten Temple B3F

Glacies Inferna

Mirage Island

Holy Windmill
Summer Gold Medals sale:
Eva, WEXP Shop in Bloody Ice
Summer Boxes!
Collect from the event mobs Summer Gold Medals and Summer Silver Medals and exchange them for different Summer Boxes and other items.
Exchange ratio from Silver Medals to Gold is 20 to 1.
In case you don't have enough time to farm medals you can also acquire them from the Web Shop in
Summer Offer category
!