Staff member
Founder
Contributor
Professional Enchanter
Registered
Joined

Oct 20, 2014
Messages

3,572
Reaction score

2,012
Points

113
Location
Destroy System
The server destroy system has been remade from scratch.
The following weapons and body parts can now be destroyed:
Mithril
Archridium
Lycanus & Drei Frame
Palladium
Demonite
On the image below you have explained what are the resulted items.​
The force core piece and upgrade core piece will not be obtained from destroying items anymore.
You will be able to buy them with Alz from NPC Chloe in Port Lux.

Power Calculator
The power calculator is a new feature that will calculate your characters
power of attack
and
power of defense
.
The power of attack is a "sum" of your character Attack, Amp, CDI, CRI, etc. Same goes for power of defense but with the defensive stats.
The scope of this tool is to help you decide easier what are the best items, skills, combo's for your character.
The calculator will self update every time you change the power, like when using skills, buffs, mounting items, etc...​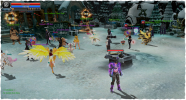 ​
Drop Changes
Removed the Account Bound property on some Discs, Shape Cartridges and Powerless Core. They were not supposed to drop like that, thank you Trelior (Discord) for the report.
Check the
drop table
(The drop table needs an update to show the correct info for Extreme Craft items, so dont get scared when you see in craft list an item that says it does not have a craft level at all) for update on the following dungeons:
Lake in Dusk
Ruina Station
Frozen Tower of Undead (B1F)
Volcanic Citadel
Frozen Tower of Undead (B2F)
Forgotten Temple B1F
Illusion Castle Underworld
Forgotten Temple B2F
As a short description of what is changed in the drops of this dungeons is that now the Weapons and Body parts that will drop will have the same build as they are in the craft system.
(Next dungeons will be updated soon with higher grade items)
​
Dungeons Nerfing
The following dungeon mobs had their attack lowered:
Hazardous Valley - Easy
Hazardous Valley - Normal
Hazardous Valley - Hard
Frozen Tower of Undead (B1F)
Frozen Tower of Undead (B2F)
Volcanic Citadel
Forgotten Temple B1F
Illusion Castle Underworld
Illusion Castle Radiant Hall
Forbidden Island
Altar of Siena B1F
Altar of Siena B2F
Item Removal
The following Weapons, Body Parts and Epaulets are now set to be removed from characters upon login:
Bluestin
Titanium & Pherystin
Shadow Titanium & Aqua
Osmium & Lapis
Limitless
Zwei Frame
Eins Frame
Equilibrium
Last edited: