Weather is hot, blood is boiling and the monsters are ready to fight you. Kill them all and collect the Silver and Gold Medals. The more you collect the more you can exchange for awesome treats.
Dancing Lion and Golden Fortune Pig
These mythical creatures have taken over
Desert Scream, Port Lux, Forgotten Ruin and Lakeside
areas.
Be careful how you engage them because
Dancing Lions
are guarded by a
Golden Fortune Pig
that fights on their side and believe me when I say that they are strong creatures!
Dancing Lion:
Item Drop:

Summer Silver Medal

Drop Count:

1 (Stack from 1 to 5 pieces)

Respawn:

1 Minute

Golden Fortune Pig:
Item Drop:

Summer Gold Medal

Drop Count:

5 (Stack of 1 piece)

Respawn:

Unknown

Spot locations: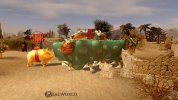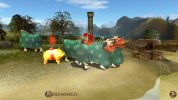 Summer Silver Medals can be exchanged to get Summer Gold Medals at Yul and Summer Gold Medals also drop from Golden Fortune Pigs but the main source to get them are dungeons.
Dungeons with Summer Gold Medal drops:
Volcanic Citadell

Frozen Tower of Undead (B1F)

Frozen Tower of Undead (B2F)

Forgotten Temple (B1F)

Forbidden Island

Maquinas Ooutpost

Tower of Undead (B3F)

Frozen Colosseum

Abandoned City

Forgotten Temple B3F

Glacies Inferna

Mirage Island

Holy Windmill
Summer Boxes!
Collect Summer Gold Medals and Summer Silver Medals from the event mobs and exchange them for different Summer Boxes and other items.
Exchange ratio from
Silver Medals
to
Gold Medals
is
20
to
1
.
This time there are 3 different Summer Boxes and they contain Bracelets. Check the images below for some of the best outcomes from each of the boxes.
Summer Box - Prideus':



Summer Box - Siena's:

Summer Box - Shane's:

There are also costumes available in the exchange shop, take a look: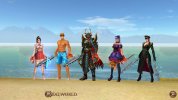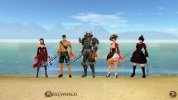 The event will end on the 7th of August, 2022 Midnight Server Time​